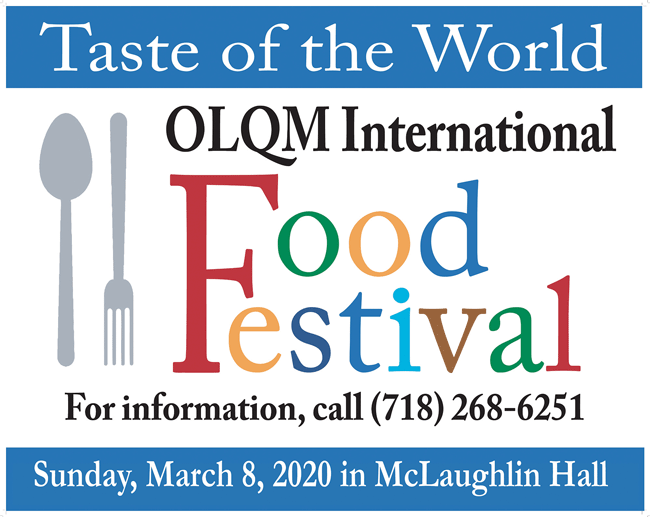 Come for the Good Food and Good Vibes!
Our Lady Queen of Martyrs will hold its ninth annual pre-spring food festival and restaurant showcase, "Taste of the World," on Sunday, March 8 from 2:30PM to 5PM.
Admission price: $35 per person ($5 discount if you purchase a ticket before March 8) and $10 for children. Event will be held in McLaughlin Hall (the OLQM Academy building auditorium; entrance at back of parking lot on 72nd Road off Austin Street in Forest Hills).
To purchase advance tickets, call our parish rectory (718-268-6251) during business hours (9-8 M-Th, 9-5 F, 10-2 Sat).
Admission includes samplings of foods and desserts from many of the most popular restaurants in Forest Hills and the neighboring communities. Raffle tickets for cash prizes are also available, so please inquire if interested. (Donors do not have to be present at the raffle drawing to win. Raffle sales benefit our church.)
Re-watch the NY1 News coverage from last year's Taste of the World! Share news of Taste of World 2020 with your friends.

---

2020 Participating Restaurants

Tuscan Hills, La Vigna, La Dolce Italia, Portofino, Matiz, Jack & Nellie's, Rove, Cipollina Gourmet Italian Market, Starbucks, Rimtin, Deasura,  Buffalo Wild Wings, Keuka Kafe, Banter, Shake Shack, Dante's Pizza, Xin Taste Hand Pull Noodle, Spy C Cuisine, The Reef, Manor Oktoberfest, Alberto's, Guantanamera, Agra Palace Restaurant & Party Hall, Dani's Pizza, Compadre 77, La Boulangerie, DuBois Pastry Shoppe, Knish Nosh, Melo's Café and Restaurant, Martha's Country Bakery, Tony's Pizzeria, East Ocean Palace, Ren Wen Noodle Factory, Noodlefan Staten Island

Raffle prizes from

Aigner Chocolates, dinerbar, Austin's Ale House, Foodtown, Woodhaven House, Nick's Bistro, Queens Bully, T.G.I.Fridays, Young Chefs Academy, and the Wine Room of Forest Hills