Most Reverend Paul R. Sanchez, D. D.
Auxiliary Bishop of the Diocese of Brooklyn
Titular Bishop of Coeliana, Algeria
Pastor, Our Lady Queen of Martyrs R.C. Church
Bishop Sanchez was born November 26, 1946, in Brooklyn. He earned a Bachelor of Arts from St. Bonaventure's University, a Master of Arts from the University of Notre Dame and a Licentiate of Sacred Theology from the Pontifical Gregorian University in Rome.
He was ordained December 17, 1971, at Saint Peter's Basilica in Rome. His priestly assignments include Our Lady of Mercy, Forest Hills (1972-75), St. Michael, Flushing (1975- 87), and St. Sebastian, Woodside (1987-91). He served as pastor at St. Agatha, Brooklyn (1991- 2001), and Our Lady of Mount Carmel, (2001-08), while also serving as administrator of St. Margaret Mary, Long Island City. He was named Vicar for Queens North in June 2008 and served this area until January 2013.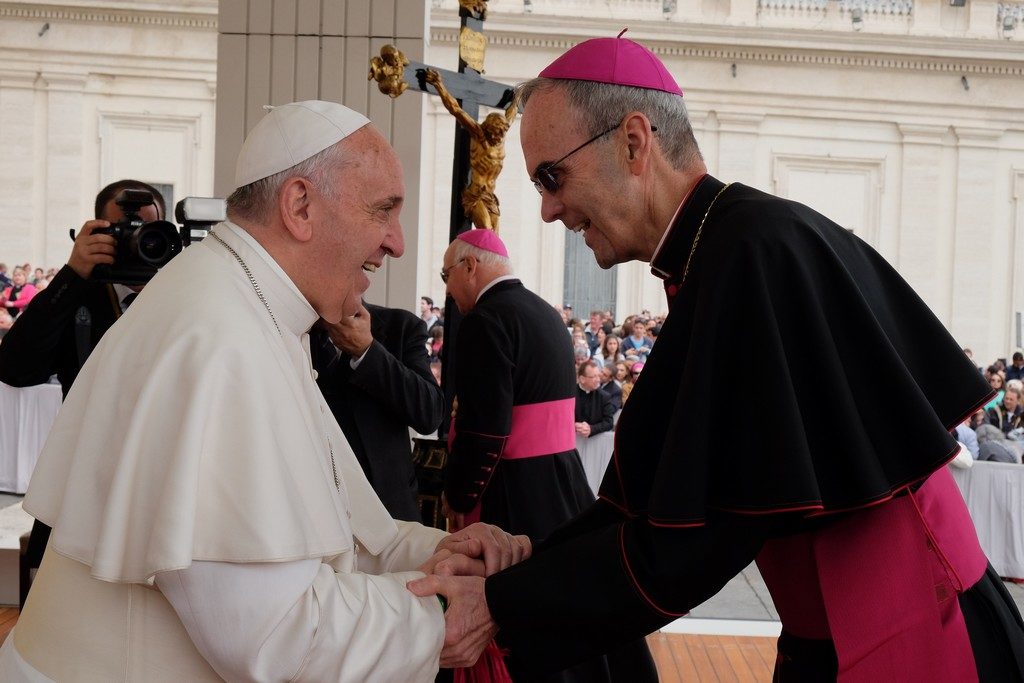 Then-Father Sanchez was named a Prelate of Honor by Blessed John Paul II in 1997.
He became pastor of Our Lady Queen of Martyrs Parish on June 30, 2012, just weeks before his Episcopal ordination on July 11, 2012, as a new auxiliary bishop of the Diocese of Brooklyn. He also once again serves as Vicar of Queens.
He speaks English and Spanish and resides at OLQM.
The Meaning of Bishop Sanchez's Coat of Arms [read more]
---
Very Rev. Francis Passenant, V.F., Administrator
Fr. Francis J. Passenant was ordained a priest in February 1979 and served his first twelve years in parish work and the next thirteen years as a chaplain for the New York City Department of Corrections. He came to Our Lady Queen of Martyrs in 2004 as an associate pastor under Msgr. Joseph Funaro. In June 2013, he assumed responsibilities as administrator of Our Lady Queen of Martyrs. In his administrative assignment, Fr. Passenant plays a key role in developing spiritual, pastoral and social programs and is involved in the fiscal operations of the parish. In 2019 he was appointed by Bishop Nicholas DiMarzio as regional dean (vicar forane) to preside over the nine Catholic parishes in Queens North Deanery #6.
---
Rev. Antonin Kocurek, Parochial Vicar
In addition to serving as an assistant in the parish, Fr. Antonin ministers to immigrants in our diocese from the Czech Republic.
---
Deacon Greg Kandra 
In addition to serving as a deacon in our parish, Deacon Greg is Executive Editor of ONE, a magazine published by the Catholic Near East Welfare Association (CNEWA). Previously he had a long career in broadcast journalism, including as founding News Director of NET, the cable channel for the Diocese of Brooklyn, and an award-winning writer and producer for CBS News. He writes "A View from the Pew" and blogs at The Deacon's Bench.
---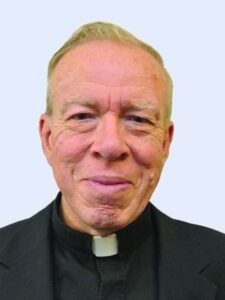 Rev. Msgr. Joseph Cunningham, Sr. Priest in Residence
Fr. Cunningham was assigned to Our Lady of Mercy Parish in Forest Hills when he was first ordained. He was Director of the office of Liturgy in the Brooklyn/Queen Diocese for many years. He then served as Rector of St. Vincent's Seminary in Florida. Upon returning to the diocese, Fr. Cunningham was named Pastor of St. Gregory the Great Parish in Bellerose, where he served for many years before his retirement. He now resides with us in the OLQM rectory. He was named Monsignor in March 2020 by Bishop DiMarzio.