Dear Parishioners:
We are encouraging one another to make a sacrifice for the 2020 Annual Catholic Appeal (annualcatholicappeal.org), an $8 million initiative conducted throughout the diocese to support the pastoral, charitable, and educational ministries of the Catholic Church in Brooklyn and Queens. Please consider making a pledge to the Appeal, payable through December 31 of this year. If you have not received an envelope at your home already, please take an Appeal envelope from the church or use the link (below) to make an online donation.
God bless you and your loved ones for your goodness.
— BISHOP PAUL R. SANCHEZ
---
Give to the ACA 2020 online via GiveCentral.org.
Choose the amount, interval and the start date.

Please be sure to select Our Lady Queen of Martyrs (#4172) from the Parish drop-down menu.

Make or fulfill your pledge by December 31.
Remember, once we reach our parish's target goal, we will receive all the funds raised over our goal, to fund initiatives right here in our parish.
---
Related information
Read how and where your 2020 ACA gift will have an impact
Read about the Generations of Faith 5-year capital campaign
---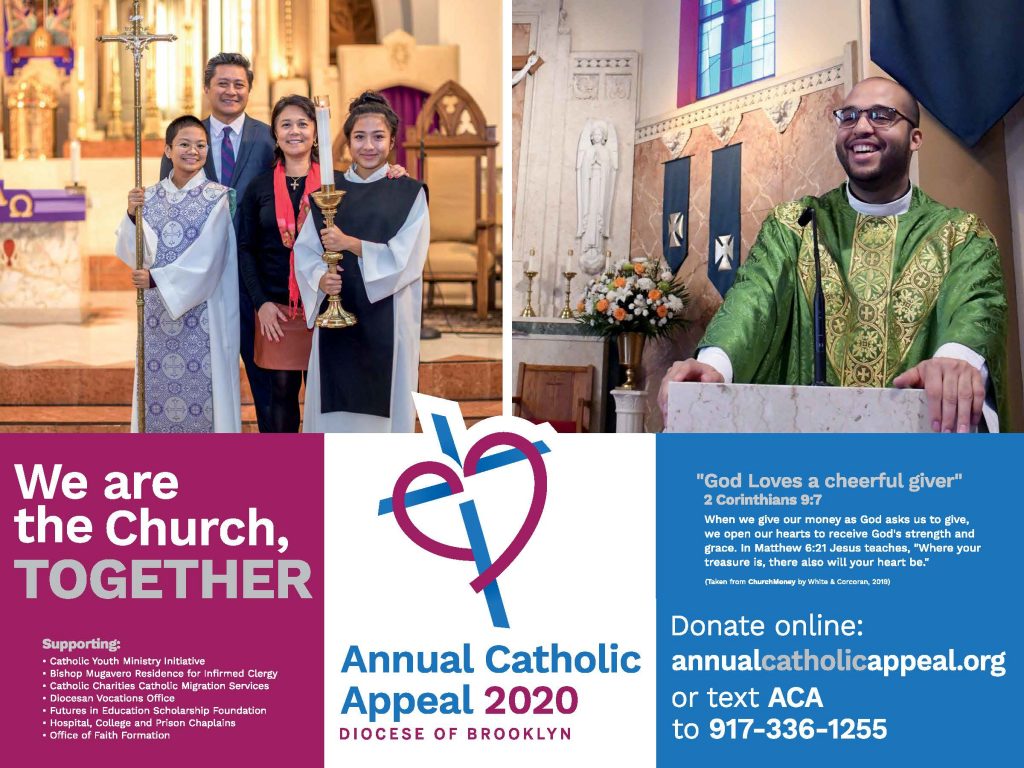 Your kindness in supporting the Annual Catholic Appeal nurtures the Words of Christ in the many ministries, programs and services provided throughout Brooklyn and Queens, including:
Vocations Support for seminarians to be ordained for the Diocese of Brooklyn in the spring. A gift of $1,920 can provide room and board for one month for a seminarian.
Office of Faith Formation supports RCIA, Catholic Youth Organization (CYO) programs, diaconal formation, as well as lay ministry formation.
Catholic Charities of Brooklyn and Queens provides nearly 100,000 people in the Diocese each year with child care, elder care and community services. (Did you know that $2,297 can provide 864 meals from soup kitchens and food pantries?)
Catholic Migration Services office is renowned, and immigration services loom large at this moment. Masses are regularly held in 24 different languages across our Diocese of multicultural and diverse populations.
Retired Priests living at the Bishop Mugavero Residence receive assistance principally thanks to ACA funds.
Futures in Education Scholarship Assistance is available, ranging from $500 to $2,700 per student/year, for 85 Catholic elementary schools and academies in Brooklyn and Queens.
Chaplaincies within the Diocese serve high schools, collages, prisons, and 22 hospitals.
Parish Assistance is made available to 112 parishes  (including our own) with 210 churches, so we can remain healthy.
Double your donation with a corporate matching gift
Many corporations match the charitable contributions of their employees. Talk to your company's Human Resources professional to determine if your company participates in a Matching Gift Program in the area of education, to support Cathedral Prep, a four-year academic high school fully accredited by the Middle States Association.
Or contact the Diocese's Annual Catholic Appeal Office for information about other Matching Gift opportunities. The phone number is 718-965-7300,

ext

. 1609, or email parishgiving@dioceseofbrooklyn.org.
Save