Weekly Bulletin
OLQM Communications includes the print bulletin, website, email alerts, Facebook and other social media, all of which are ways to stay connected to the life of our parish.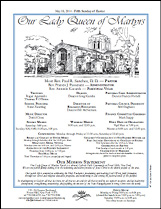 Every week, Our Lady Queen of Martyrs publishes a bulletin for its Sunday services. Bulletins are printed on Tuesdays (5 days before Sunday service). The printed bulletin includes:
– The Order of Mass
– Sunday Mass Assignments
– Mass Intentions for the Week
– Main Events of the Week
– News Announcements
– Occasional special inserts or supplements
We also provide the current week's bulletin in electronic format for download.
– Current Bulletin (PDF)
– Bulletin Archives stores PDF copies of church bulletins of the past year. Back issues before April 2014 are available by request.
To submit an informational announcement or update for the print bulletin or our website, please contact the parish communications office at olqmcomm@aol.com. The submission deadline is Friday, 10 days before the Sunday publication date. Articles can always be sent earlier.
---
Email Alerts and Digital Communications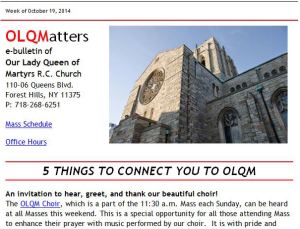 You can have an electronic copy of the bulletin automatically delivered to your email inbox each week by when you register online with our parish. The weekly email is another way to be notified of important developments and periodic late-breaking church news.
–Follow and Like Us on Facebook
–Contact us if you are interested in helping to give our church a broader communication reach in the digital age!
---
Advertising Support
The costs of printing our weekly bulletin and hosting our website are subsidized completely by those companies whose advertisements appear each week at the back of the bulletin. If you are a business or service provider interested in advertising in our print bulletin, please contact John Patrick Publishing Company for ad rates:
Phone: 800-333-3166, x161
Email: sales@jppc.net
www.jppc.net
Save