Celebration of Baptism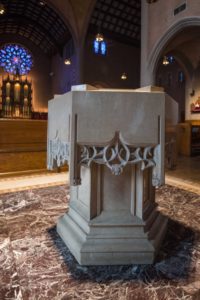 Our Lady Queen of Martyrs celebrates infant Baptism on the first Sunday of each month at 2:30 p.m.
On the previous Sunday (i.e., the last Sunday of each month) at 2:30 p.m., there is an orientation meeting with the parents in the main rectory meeting room.
Parents are required to attend this meeting in preparation of their child's baptism, to learn about the significance of the Sacrament of Baptism and their responsibility to bring up their child in the practice of their faith. Godparents are encouraged, but not required, to attend. This meeting is usually conducted by one of our priests.
You must pre-register in the rectory for this program a month in advance and supply the necessary documents. Please call the rectory.
Basic Baptism Register Form (PDF) (minimum information required)
Detailed booklet is available on request; call the Rectory.
What parents need to know:
Parents presenting their child for Catholic Baptism assume a significant responsibility in the decision to have the child baptized in the Roman Catholic Faith. Catholic Baptism is much more than a cultural or social ritual. It is a highly significant event that represents a faith and value decision that parents have made on behalf of their child. It means that parents have chosen for the child the direction of growing up in the Catholic religion. Having made that choice, parents are encouraged to evaluate their own personal commitment to the Catholic Faith and its practice. In other words, parents should create an atmosphere in the home of religious faith and practice so that their children, even in the early years, can gradually make their own the religion into which they have been baptized.
What godparents (sponsors) need to know:
Church law requires that there be two sponsors for infant Baptism, a man and a woman.
Sponsors must be age 16 or older and baptized Catholics who have received Eucharist and Confirmation.
Sponsors must also be practicing Catholics, so as to give the example of Catholic Faith and regular practice to the child they are sponsoring. Sponsors must present a letter from their parish to the effect that they are practicing Catholics.
Qualified sponsors who are not able to be physically present at the Baptism ceremony may choose a proxy to stand in place at the Baptism, as long as the sponsors are aware of and accept their responsibilities.
Persons who do not share our Catholic Faith cannot serve as sponsors. Non-Catholic Christians who practice their tradition of Christian faith regularly may serve as Christian witnesses to the Catholic Baptism of the child.
It is not possible for a non-Christian to sponsor an infant into the Roman Catholic Faith by Baptism.