Stewardship is an expression of gratitude to God. We answer the call to stewardship by giving a portion of our time, talent and treasure. Please read the Stewardship Message from Bishop Sanchez and Father Passenant.
Weekly Collection Envelopes
Contributions received in the weekly first collection support the operating costs of the parish—the costs for our facilities and utilities, for example. The weekly collection allows us to run the parish efficiently while helping to support the good work of the parish.
If you are a registered parishioner and receive pre-printed church donation envelopes, please use them. They allow us to keep a record of gifts received and to provide, on request, a year-end acknowledgment to parishioners for their records.
Online Parish Giving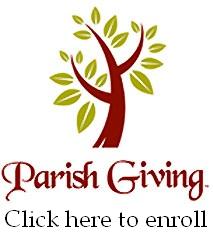 You also have the option to use online giving instead of printed offertory envelopes. Church-related donations and payments to Our Lady Queen of Martyrs are handled through Parish Giving, the premier online giving and payment system used by churches nationwide. Click on the Parish Giving logo to set up an account for weekly or monthly donations; if you prefer, you can even make one-time donations or payments without creating an account.
Click to Create or Login to Your Parish Giving account.
Sacrificial Giving
We ask parishioners to reflect on how they might be able to make a positive difference in our parish community by increasing their weekly contribution. Read about the objectives and benefits of Sacrificial Giving to OLQM.
Planned Giving
You can support our parish in ways above and beyond weekly contributions. Remembering Our Lady Queen of Martyrs in your will or estate plans is a significant act of charity. In your will, you can make a specific gift amount, name a percentage or make the parish a beneficiary of the remainder of your estate. Naming the parish as a beneficiary of an IRA or other qualified retirement plan may save your estate a potential tax burden. Talk to your financial adviser if you would like to make an IRA gift, a charitable gift annuity or other bequest to the parish.
For further information on remembering the Roman Catholic Church of Our Lady Queen of Martyrs in your will and estate planning, you may contact Bishop Sanchez or Father Passenant at 718-268-6251.
Almsgiving and Volunteering
There are opportunities to donate money or goods to the church and to the poor through almsgiving and Charity Outreach, as well as opportunities to offer your time and talent to God by volunteering. Dedicated volunteers enrich our entire parish community, serving as lectors, Eucharistic ministers, ministers of hospitality, religious education instructors, choir members and Pastoral Council members. Volunteers also lend a helping hand with our communications functions (bulletin, email, website) and at special events. Click here for a listing of our volunteer-supported ministries and organizations.
Save
Save
Save