Attention 8th Graders! TACHS Registration Deadline October 24 (Don't miss the deadline!) →
Advent & Christmas Music Festival, December 12 @ 4PM →
The church is at full capacity once again. Social distancing and mask-wearing are required in church for those who are not vaccinated against COVID-19. Masks are encouraged for everyone. Read More →
Bulletin for October 17, 2021
General Intercessions for Sunday
---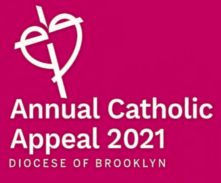 WE DID IT! We Met Our Parish Goal of $114,568. In fact, through the generous support of 379 donors, we have surpassed our 2021 Annual Catholic Appeal goal! As of October 11, we received paid pledges of $125,846. All funds received above goal are returned to our parish. If you have an outstanding pledge, please complete your pledge by December 31st. We are very grateful.
Frequently asked questions about the Appeal. Donate online or by texting ACA to 917-336-1255.
---
Daily Mass at OLQM
Daily Mass times are 8AM or 12:05PM (Mon-Sat). Use the Queens Boulevard church entrance/exit. If you are unable to attend Mass in person, we recommend the 8 AM live-streamed daily Mass from St. Joseph Co-Cathedral.
Daily Scripture readings
Devotional schedule
---
Thank You for Your Parish Giving Online SIGN UP HERE
We are very grateful for those who have signed up for online parish giving. If you have any problems using online giving or setting up your donations (one-time or recurring donations), please call the support line: 866-307-7140, M-F, 8:30AM to 4:30PM.

---
Pathways to Faith
Watch episodes of our parish video series →