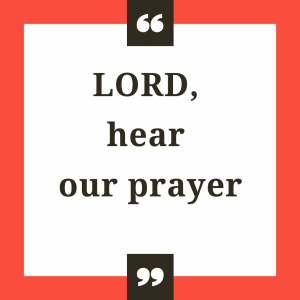 Pope Francis's Monthly Intentions
For January 16, 2022, Second Sunday in Ordinary Time
CELEBRANT: Acknowledging that all good gifts stem from our loving and merciful God, let us turn in prayer to the One who loves us.
Our response is: "Let us pray to the Lord. Lord, hear our prayer."
For our church leaders, may they have the courage to steer people back to Jesus through a message of love and truth.
For our country as we celebrate Martin Luther King, Jr. Day, for an end to racism and injustice.
That our candidates and catechumens may deepen their faith in the transforming love of our God.
For those who witness God's marvelous deeds, may they praise the Savior and share the fruits of those actions with others.
For our Holy Father's Intention for January: For all those suffering from religious discrimination and persecution, may their own rights and dignity be recognized, which originate from being brothers and sisters in the human family.
For those small miracles that we see in our daily lives, may we revere the power of Jesus to transform all things.
May all who defend life find strength and renewal in the Holy Spirit (from the 9 Days for Life Novena prayers).
For all of us gathered here, may we recognize the spiritual gifts God has uniquely granted us and use them wisely.
For healing for those with Covid-19, the protection of those who are most at risk, and for everyone affected by the continuing pandemic.

For all

who are sick,

especially those listed in our church bulletin, and their caregivers.
For those who have died and whose names are listed in this week's church bulletin. May they celebrate everlasting life in Christ Jesus.
For those prayers that we hold in the silence of our hearts.
CELEBRANT: May our God who listens and  loves us hear these intercessions and grant them through Christ, our Lord. Amen.
Prayers during this pandemic
For healing for those with Covid-19, for the protection of those who are most at risk, and for everyone affected by the continuing pandemic.

For the success of COVID vaccinations amid increased cases, so that the illness will not be life-threatening.
For a better world as we emerge from pandemic restrictions, and for those anxious about the future.
That we maintain the vigilance and understanding necessary to keep us safe, and for the speedy and equitable distribution of the vaccines.
That God may give us the grace to show kindness in caring for one another while challenged by COVID-19.
For the doctors and researchers working on vaccines and effective treatments.
For all those who give of themselves so that others may be helped – doctor, nurse, healthcare worker, EMT, police officer, firefighter, grocer, trucker, store clerk, mail carrier, takeout cook, hospital and building cleaner, teacher, child care worker, mental health professional, and countless others.  May they receive your protection as they serve.
For those who have lost loved ones to the coronavirus: may God console them and grant them peace.
Prayers for our parish and diocese
That our parish community might grow in faith and confidence that God is present among us, and that we might be agents of that presence.
For all who share in the ministry of this parish community, that they bring compassion and understanding to all those in need.
That our parish will grow in faith, hope, and love through deeper devotion to the Blessed Virgin Mary and the holy rosary.
That our parish may grow in holiness through the graces of the Eucharist.
For an increase of vocations to the priesthood and to consecrated life, for the greater honor and glory of God in service of God's people.
That we may be trustworthy stewards of your abundant blessings and generally support the church through the Annual Catholic Appeal.