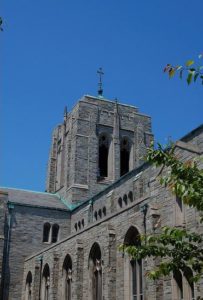 People in Forest Hills have taken notice that our church tower is singing again with music and bells chiming!
Our new electronic carillon system was inaugurated August 27, 2017 and dedicated at Mass on September 10. It was given as a gift to the church by the parish priests. The carillon is "a set of stationary bells rung by a keyboard-like instrument that can be programmed to play at certain times of the day," says OLQM Music Director David Close, who spoke with a reporter at the Queens Chronicle about our new digital church organ and carillon bells. Read the article here:
Ring the bells in Forest Hills again (Queens Chronicle 9/7/17)
Bell tolls again at long silent Forest Hills Church (Forest Hills Patch 9/13/17)
CARILLON SCHEDULE @ OLQM
The carillon bells ring four times daily: 9 a.m., 12 noon, 3 p.m. and 6 p.m. On Sundays, they ring 7 minutes before the Sunday Mass. They will also be played just before funerals.
Summoning worshipers to Mass

Save