To coincide with our  Parish Feast Day (Our Lady of Sorrows, September 15), we dedicated our new organ and outdoor chimes at Sunday Masses on September 10, 2017.
11:30 a.m. Mass – Bishop Sanchez offers the dedication prayer and blessing of the new church organ, made possible by your response to the Generations of Faith program.
1 p.m. Mass – Father Passenant offers the dedication prayer and blessing of the carillon chimes (digital church bells), as a gift from the parish priests to commemorate this year's special parish centennial—the anniversary of the appointment of our first pastor in residence. After Mass, there'll be a coffee hour reception.
About the New Organ
Through the sampling of grand pipe organs and highly accurate methods of sound production, the five manual digital organ built by Allen Organ Company for Our Lady Queen of Martyrs can produce an immense musical ensemble. The console is a piece of fine furniture, build by crafts men with quality wood and veneers. The new sound and speaker system reproduces a pipe organ experience that we believe will inspire and bring joy to all who hear it in worship and in concerts.
Organ Console Specifications and Stop List (furnished by Allen Organ Company)
---
The Official Flyer (bulletin insert for September 10, 2017)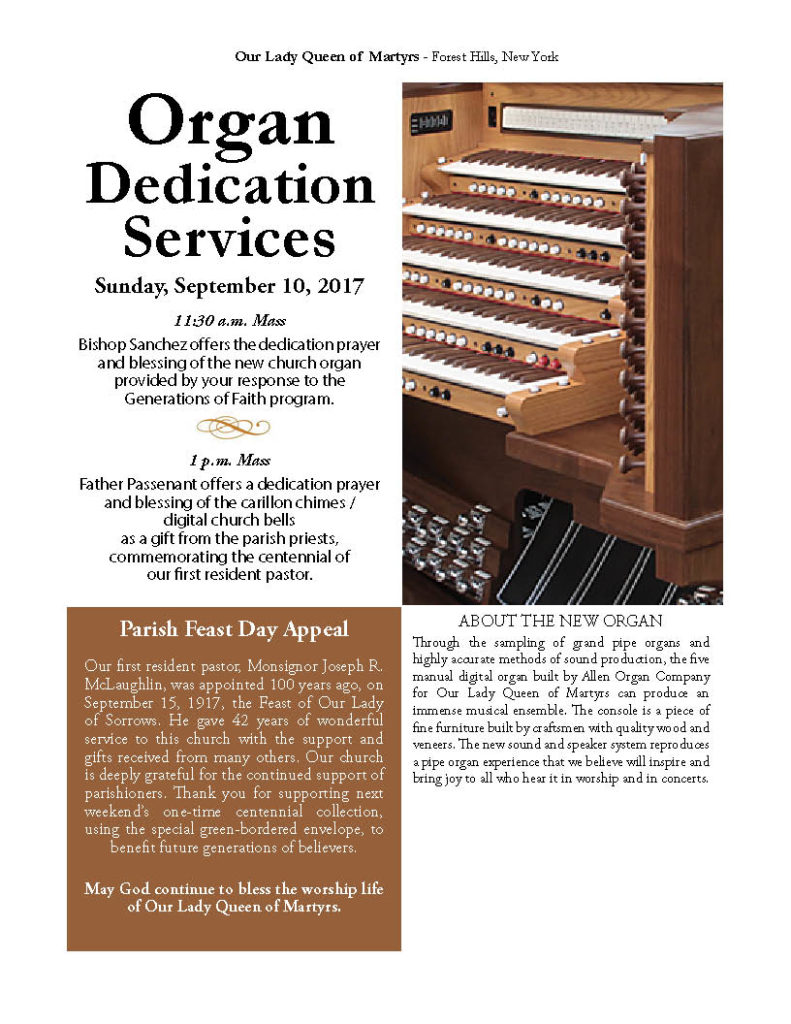 Save