March 12, 2017
The 6th Annual Taste of the World was the most successful ever thanks to our diligent committee and volunteers overseen by Fr. Passenant, our local food establishments, the media (Spectrum Channel NY1 and the local newspapers), and especially parishioners and the greater community who attended in support of our efforts.
Watch here (or click the image) for the 45-second spot that aired on NY1 "Queens News Nows." Read the cover story in the Forest Hills Times and the coverage in the Queens Gazette (with photos by Robert Schnell).

Acknowledgments
Sweepstakes Raffle Winners: Brian O'Connor (Grand Prize of $1000); Fiona Symth (2nd Prize of the $200 JetBlue Gift Card); Shirley Villapando ($100 Cash 3rd Prize). Congratulations!
Participating Vendors: Please patronize these local businesses and be sure to let them know you are from OLQM! Click here.
Volunteer Appreciation: Click here.
---
Photos
Pictures (below) by Rosalind Chan

Participating Restaurants and Vendors

Our thanks to the following businesses for generously supporting our parish at the 2017 Taste of the World event and for the terrific services they provide here in Forest Hills and the neighboring communities of Rego Park, Glendale, and Jackson Heights.
Donating/serving food
Alberto's, Banter, Bareburger, Biu Bella, Brooklyn Cupcake (Atlas Park), Bund, Chipotle, Cipollina's Gourmet Italian Market, Don Alex (Peruvian), East Ocean Palace, Haveli Indian Restaurant, Jack & Nellie's/Rove, Kabayan (Roosevelt Ave.), Keuka Kafe, Knish Nosh, La Boulangerie, La Dolce Italia Bakery, La Vigna, Manor Oktoberfest, Martha's Country Bakery, Matiz, Ovo Sodo/Tuscan Hills, Portofino, Reef, Bund, Shake Shack (Custard), Shogun Hibachi, Silk Cakes, Starbucks Forest Hills (Coffee), Trinciti Roti Shop (Caribbean), Tu Casa, Violet's Bake Shoppe
Donating gift prizes
Aigner Chocolates (gift card), Austin's Ale House  (two $50 certificates), Austin House, Buffalo Wild Wings ($10 gift cards), Cannelle Patisserie (three $25 gift certificates), Cinemart Theater & Theater Café ($25 gift card), C-Town (two $25 gift cards), Dee's ($50 gift card), Exo Café ($50 gift certificate), Foodtown/Orchard Supermarket (two $50 cards), Forest Hills Station House ($25 gift card), La Coya (20% discount to OLQM parishioners),  Austin Public (two $25 gift cards), Mr. Vino (two bottles of wine), Mr. Vino's Cucina (gift card), Nick's Bistro ($50 gift card), Panera Bread (two "Bread for a Year" cards), Roast N Co, Starbucks/Kew Gardens Hills (mugs, coffee), TGI Friday's ($25 gift card), Trader Joe's (bag of groceries), Tu Casa (Forest Hills),The Wine Room (wine basket), Woodhaven House (gift certificate), Young Chef's Academy of Forest Hills (package), Zum Stammtisch ($40 gift certificate)
Volunteers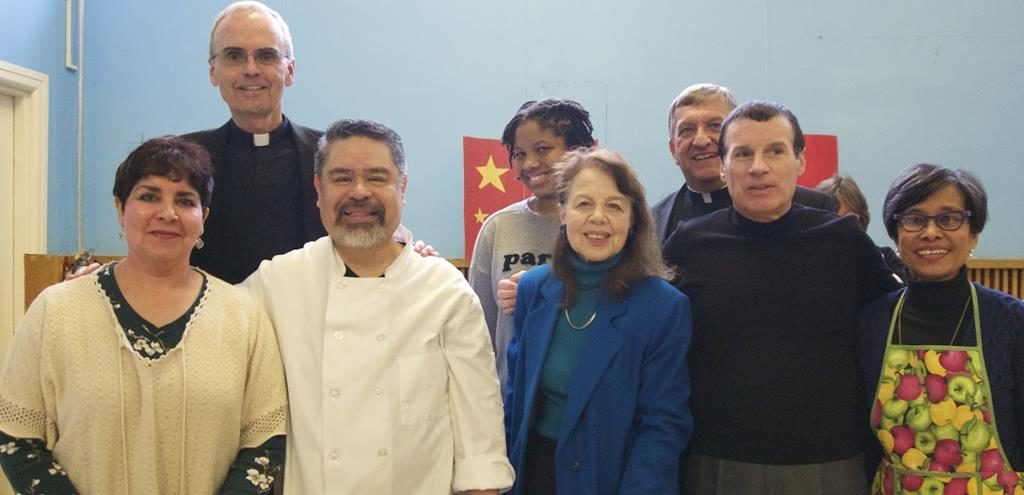 Thanks to all of these Committee Members:  Raz De Asis, Denise De Maria, Mel Gagliano, Marianela Opazo; Christopher Belton, Alejandro Caycedo, Jackie Cheong, Anthony Cilento, Maureen Heyer, Beena Iype, Consuelo La Porte, Gina Larraondo, Chato Morando, Delfina Roka, Robert Schnell, Anne Szydlowski, Keisha Waldropt, Teresa Wong, the many volunteers from the Choir, Single Adults Group, Religious Ed Confirmation students, and others who assisted the day of the event to ensure all ran smoothly.
Special thanks to Victor Varoli for providing the entertainment.
Save