Our beloved Yorke Mizelle died unexpectedly on Saturday, September 11, 2021. His funeral is Friday, September 17, at 10:30 am, here at Our Lady Queen of Martyrs. There is no wake. His burial is Saturday, September 18, in Poughkeepsie.
Homily: Remembering Yorke
By Deacon Greg Kandra
With this loss of our parish Bereavement Support Group leader, group meetings are suspended until further notice.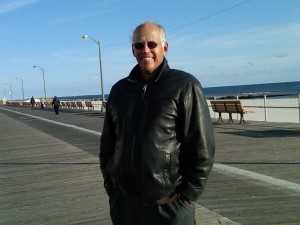 Yorke was baptized into the Catholic faith at the 2007 Vigil Mass at Our Lady Queen of  Martyrs. He volunteered to be a member of Pastoral Care, became a Minister of Holy Communion, and was accepted as a catechist, teaching the faith to third-grade public schoolchildren. He later completed the Diocesan Pastoral Institute three-year program of study and preparation for lay ministry.
In May 2013, he was commissioned as a Lay Pastoral Leader in the Diocese of Brooklyn by Bishop DiMarzio. He served as leader of the OLQM parish Bereavement Support Group since its first meeting on July 1, 2013.
Please remember Yorke in your prayers, as he led so many prayers for others who have gone before him.