"Everyone, especially the most vulnerable among us, requires assistance and has the right to have access to necessary care. This is even more evident in these times when all of us are called to combat the pandemic. Vaccines are an essential tool in this fight. I urge the entire international community, in a spirit of global responsibility, to commit to overcoming delays in the distribution of vaccines and to facilitate their distribution."

– Pope Francis, 2021 Urbi et Orbi Easter Message
There is no religious exemption for Catholics. The Vatican has determined that the COVID-19 vaccines are all morally acceptable.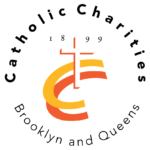 Catholic Charities of Brooklyn and Queens (CCCBQ) is working with the Mayor's Office of Faith and Community Affairs to provide vaccinations throughout the city, especially in low-income and senior communities. As part of that collaboration, CCBQ has been bringing vaccination opportunities to the pop-up food depositories and health fairs it hosts at parishes.
CCBQ also wants you to know that the city is providing mobile vaccinations at Senior Center Sites throughout the month of August. The sites listed below are open 8AM to 6PM and offer Pfizer and J+J vaccines. If an individual is choosing Pfizer, we will help book their second vaccine. Nearly 25% of older adults are still not vaccinated, with an even larger percentage of unvaccinated older adults age 85+.
August 11-13, 2021
Little Neck/ Flushing
Samuel Field Neighborhood Senior Center
58-20 Little Neck Parkway, Queens 11362
August 18-20
Sunnyside Community Neighborhood Senior Center
43-31 39th Street, Queens 11104
Rochdale Neighborhood Senior Center
169-65 137th Avenue, Queens 11434
August 25-27
North Corona
Florence E. Smith Neighborhood Senior Center
102-19 34th Avenue, Queens 11368