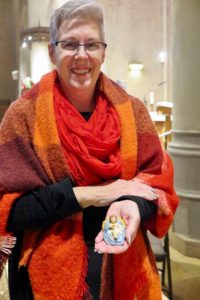 The first-ever observance of the Blessing of Bambinellis (baby Jesus statues) at our parish was on December 17, 2017 — the Third Sunday of Advent.
We hope to make this old tradition, popular at the Vatican, a welcome new tradition at Our Lady Queen of Martyrs. Thank you to the many parish families that lined up to have the statues from their home Nativity scenes blessed. With the blessing, may these images of Jesus be a sign of His presence and love in our homes.
Photos by Deacon Greg Kandra.