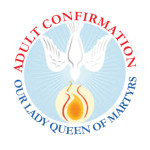 Classes begin March 21, 2017 for Confirmation Preparation for Adults. This class is for those who have received the Sacraments of Baptism and Eucharist and want to receive the Sacrament of Confirmation.
On-Site Registration
Thursday evenings, March 7 and March 14,* from 7 p.m. to 8 p.m., in the rectory basement meeting room
(*subject to change because of a winter storm forecast for March 14; updated information is forthcoming)
Class Dates
All classes are at 7:30 p.m. and held in the rectory basement meeting room. Classes are scheduled for eleven Tuesdays starting March 21, as follows:
March 21 and 28
April 4, 11, 18, 25
May 2, 9, 16, 23, 30
June 4, Pentecost Sunday, is the confirmation ceremony at a special 4 p.m. Mass
Requirements
Attendance at all classes is mandatory.
Materials fee of $60 due at the first class.
Contact your church of baptism to secure copies of your Baptismal and First Communion Certificates.
FOR MORE INFORMATION ON RCIA at OLQM

Email olqmrcia@gmail.com
Save