Sunday, August 13, 2023
9:15AM to 3:15PM
NY Blood Center Busmobile (in front of the church on Ascan Avenue)
Be a lifesaver! Blood shortages often occur during the summer months. Giving blood is practically painless, takes about an hour, and can save up to THREE lives. Walk-ins are allowed. You may also schedule your appointment time in advance at donate.nybc.org (search by date and zip code to find our listing).
To prepare to give blood, eat well (low fat) and drink fluids the day before. Bring a picture ID with you. Wearing masks is optional for both donors and the NY Blood Center staff.
After your life-saving blood donation, you are invited to enjoy a light meal with others from the parish at our Summer Potluck Luncheon (start time 2PM) in the air-conditioned rectory basement.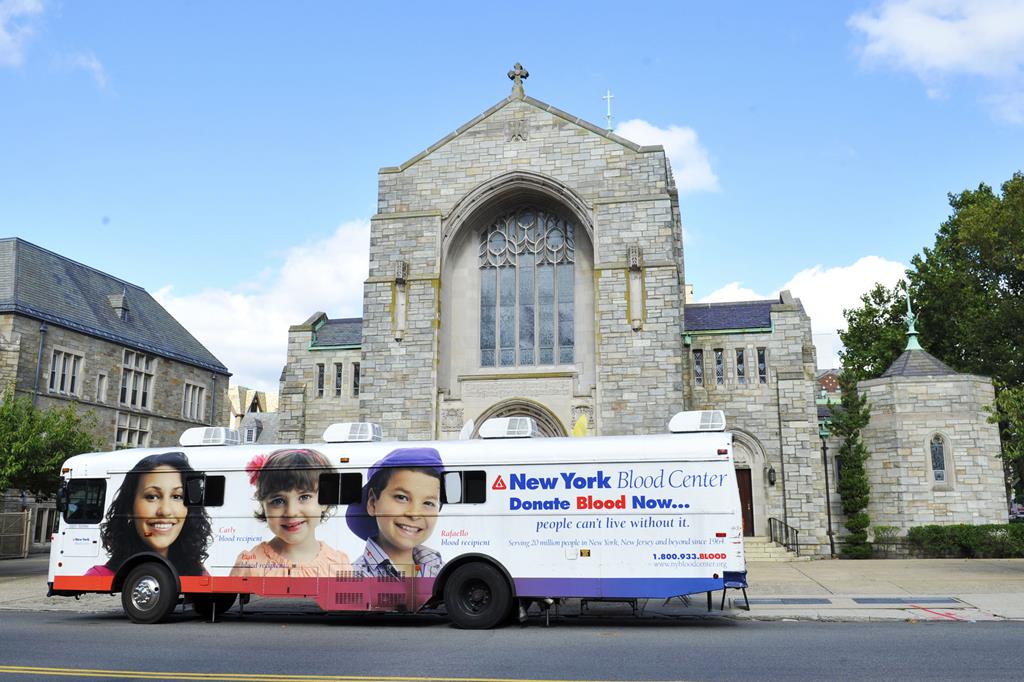 Frequently Asked Questions
Why donate? Close to 2,000 donations are needed each day in the New York/New Jersey community for cancer patients, accident or trauma victims, newborn babies and mothers delivering babies, transplant recipients, and surgery patients. Giving blood may be considered part of the Christian ministry to help others in the name of Christ, who gave His life that we may have life in its fullness.
Blood Donor Prayer ("I gave my blood, Christ gave His")
Who can donate blood? Most people qualify as a volunteer donor, even if they are taking medications. You may donate if you weigh at least 110 pounds, are in good health, and are at least 17 years old (16-year-olds need written consent from parent or legal guardian; age 76 and over may need a doctor's note). If you have more questions, read the donor eligibility requirements or call the NY Blood Center at 800-933-2566.