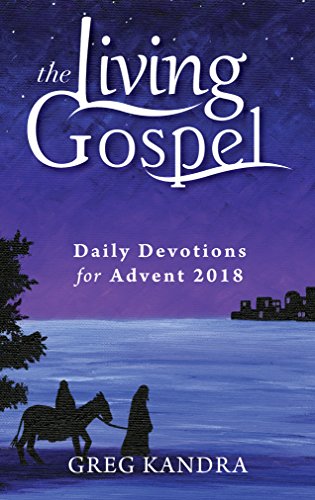 Deacon Greg's First Book!
You may be as surprised as we are to learn that Deacon Greg Kandra, a prolific and accomplished writer, hadn't already penned a book.
Well, it's happened. We are pleased and proud to announce that Ave Maria Press, the publishing arm of the University of Notre Dame, has just published Deacon Greg's first book, The Living Gospel: Daily Devotions for Advent 2018.
Order a copy and Greg will be delighted to sign it for you.

Or as Greg says, "Order a bunch and give them out with your Thanksgiving turkey!  No calories!"
The book is part of an annual series by Ave Maria, offering reflections for Lent and Advent. (Deacon Greg will also be writing the book for Lent 2019.)  The book is small and portable and a great deal! (Paperback: $1.95, Kindle: 99 cents.)  As Ave Maria describes it:
Daily Devotions for Advent 2018 offers prayerful guidance from the first Sunday of Advent to Christmas Day through a daily reflection on the gospel reading, a focused spiritual exercise, and a brief prayer that sums up the day's theme and asks for God's blessing.
Award-winning journalist and popular blogger Deacon Greg Kandra will challenge you to celebrate Advent with patience and help you be ready for a happy and holy Christmas. He keeps you focused on the mystery of Christ's coming and shows you how to prepare your heart to welcome him.
Each two-page daily devotion offers brief Bible verses, prayers, wise and practical reflections on the Word of God, and an easy-to-do spiritual exercise that you can usually accomplish in a single day. Kandra's daily reflections will help root your Advent journey in the daily gospel readings and lead you to spiritual renewal as you get ready for Christmas.
The compact size and affordable pricing make this book ideal for individuals as well as bulk purchases in parishes, schools, diocesan offices, and other Catholic settings.
You can order the books through Amazon.com (just type Greg's name in the search bar) or the Ave Maria Press website: www.avemariapress.com.