Photo Gallery 1 by Leon Volskis
The church building reopened for Sunday Masses on the weekend of August 15/16, 2020, with new kneelers, lighting, and repaired floors, and social distancing protocols in place.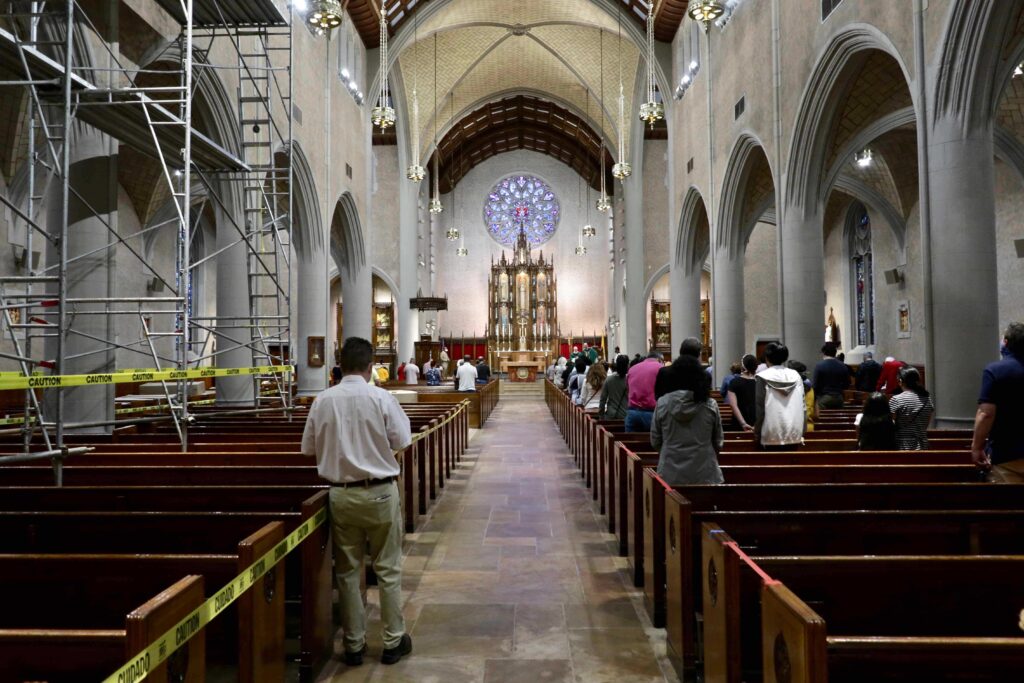 Photo Gallery 2 by Deacon Greg Kandra: RCIA Sacraments at 5 p.m.
A long line formed around the block to attend the 5 PM Vigil Mass on August 15. During Mass we celebrated a special ceremony for four members of our parish RCIA class of 2020. They patiently waited through long months of pandemic lockdown and weeks of the church building being inaccessible during repairs to arrive at this pivotal moment. "Three RCIA candidates were baptized and one other made a profession and came into full communion," said Deacon Greg Kandra. "The baptism ritual was different: we could not reuse water, so I held a bowl under each head while the bishop poured water from the font. Even the candles could only be touched by the sponsors and the candidates. For confirmation, oils were applied with individual swabs of cotton."
The ceremony, while delayed and different this year, was a hope-filled experience for welcoming these new men and women of faith to our parish community. Our thanks to Veronica McCarthy, our parish RCIA director. We thank too CCD teacher Chris Wellbrock who sponsored one of the RCIA candidates.