Regina Caeli
May is a month of special devotions to the Blessed Virgin Mary. During the month of May, Our Lady Queen of Martyrs parish holds a May Crowning ceremony and a special recitation of the Living Rosary. Our choir also performs Regina Caeli, Jubila.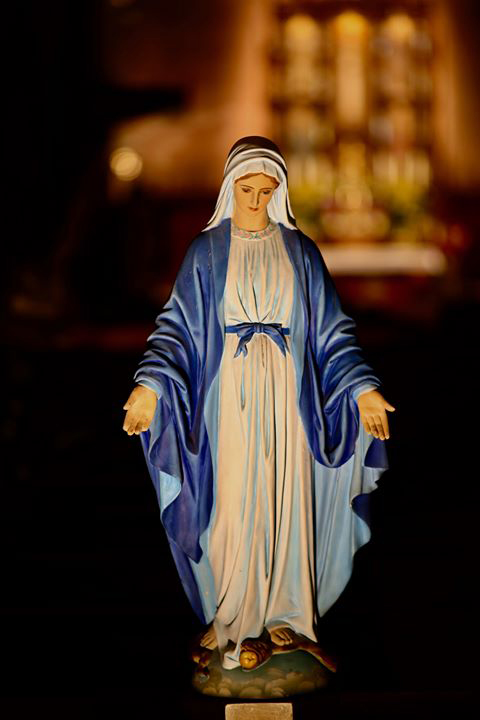 Regina Caeli
(Latin for "Queen of Heaven")
This Marian hymn and Catholic prayer traditionally replaces the Angelus during the Easter season. Today, the Regina Caeli (sometimes also written Coeli) is said primarily in convents and monasteries, where it is sung in Latin. The inspiration for the hymn dates back to Pope St. Gregory the Great (d. 604). According to legend, he heard angel voices, high above the church, singing the first three verses one Easter morning, and he then added a fourth verse, asking for God's prayers. Over the centuries, as a hymn, the Regina Caeli has been treated musically by many known and unknown composers of sacred music, including Mozart—who composed several works for soprano soloists, chorus and piano accompaniment.
The verses are sung text (the antiphon), with the Alleluia serving as a refrain. The verses and a concluding prayer are presented here in Latin, along with the literal translation.
 
Regina caeli

laetare, Alleluia,




Quia quem

meruisti

portare. Alleluia.




Resurrexit Sicut dixit, Alleluia.




Ora pro nobis Deum. Alleluia.

Queen of Heaven, rejoice, Alleluia.
For He whom you did merit to bear, Alleluia.
Has risen, as he said, Alleluia.
Pray for us to God, Alleluia.
Gaude et laetare, Virgo Maria, Alleluia.
Quia surrexit Dominus vere, Alleluia.
Rejoice and be glad, O Virgin Mary, Alleluia.
For the Lord has truly risen, Alleluia.

Oremus. Deus, qui per

resurrectionem Filii tui, Domini nostri Iesu Christi, mundum laetificare dignatus

es: praesta,

quaesumus; ut per eius

Genetricem Virginem Mariam,

perpetuae capiamus gaudia

vitae. Per eundem Christum Dominum nostrum. Amen.

Let us pray: O God, who gave joy to the world through the resurrection of Thy Son, our Lord Jesus Christ, grant we beseech Thee, that through the intercession of the Virgin Mary, His Mother, we may obtain the joys of everlasting life. Through the same Christ our Lord. Amen.