(June 15, 2021)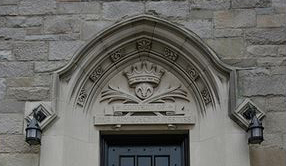 The parish convent has been a residence for various groups over the 65 years since it was built. Intended originally as housing for the Immaculate Heart of Mary (IHM) Sisters who staffed the parish school in 1956, it has been accommodating different groups in need of a place to call home.
Renovated in 2001 by the diocese, the convent was used first as housing for senior priests. Later a group of challenged adults with disabilities occupied the facility in 2007 through a program sponsored by Catholic Charities. It was a temporary residence for three years while their main home, Dawson Manor in Ozone Park, was being renovated. The residents were warmly received by our parishioners and they attended many parish Masses and social events. The Sisters of Charity of Halifax were the latest occupants, living in the building for ten years from 2010. The Sisters, many of whom were retired, were familiar faces at Mass. As their numbers depleted, it was deemed necessary for the remaining Sisters to move to convents within their community with available space.
We held Daily and Sunday Masses in the convent during the summer of 2020 while the interior of our church was being extensively renovated. Many enjoyed the cozy worship space.
The diocese has identified a social service agency named YAI (Young Adult Institute) with an interest in renting the convent. YAI provides innovative services for the I/DD (intellectual and/or developmental disabilities) community. They are dedicated to the personal growth and independence of the individuals they work with and are excited to have a building in such great condition with minimal renovations to bring it up to code for the population they serve.
We look forward to warmly welcoming our new neighbors and invite you to keep them and their counselors in your prayers.