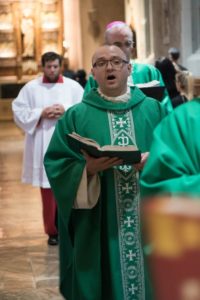 On July 30, 2017, Father Robert Mema, who was ordained in June 2017 as a priest in our diocese, celebrated 11:30 Mass and led us in day 4 of the novena to St. John Vianney, patron of parish priests. Afterward, in the Mary garden, he offered a First Blessing to those attending Mass. The close of the novena on August 4, the saint's feast day, is special this year because it marks the start of a diocesan Year of Vocations.
Scroll for our photo gallery (below) or view photos at The Tablet.
NET-TV's "Currents" aired two segments on the novena tradition at our church, interviewing Fr. Mema and some of our parishioners about why they participate in the novena for vocations and pray for the future of the church.
Watch and listen to the NET TV videos here or visit netny.tv.
---
Photos by Niranjan Fernando, at 11:30 am Novena Mass, July 30, 2017
Save