Friday, January 22, Washington, D.C.
Millions of men, women and children have suffered the spiritual and psychological wounds of abortion. Make a New Year's Resolution to help build a Culture of Life. Reserve a seat on a bus to Washington, D.C. leaving from Holy Family Church Parking Lot, 75 Avenue and Utopia Parkway,  Fresh Meadows. A bus will be leaving at  6 a.m.
To reserve a bus seat, call Cathy Donohoe, 917-929-2752. Be sure to leave your name and phone number for a call-back to confirm.
For additional buses leaving from Queens and Brooklyn, you can find a complete listing at The Tablet.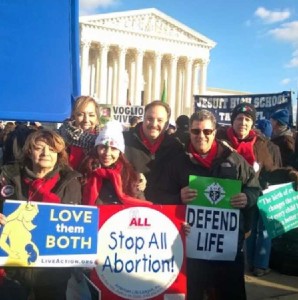 If you cannot attend the March in DC, then attend a Mass for Peace and Justice.  On January 22, the daily masses at Our Lady Queen of Martyrs at 8 a.m. and 12:05 p.m. will commemorate in love and prayer the children who have been aborted and their parents. All are welcome!
There is also an evening Mass for Peace and Justice at St. Josaphat's  at 7:30 p.m. on January 22.
St. Josaphat's R.C. Church
34-32 – 210 Street
Bayside, NY
Also, see www.marchforlife.org for more details about activities planned on January 22.