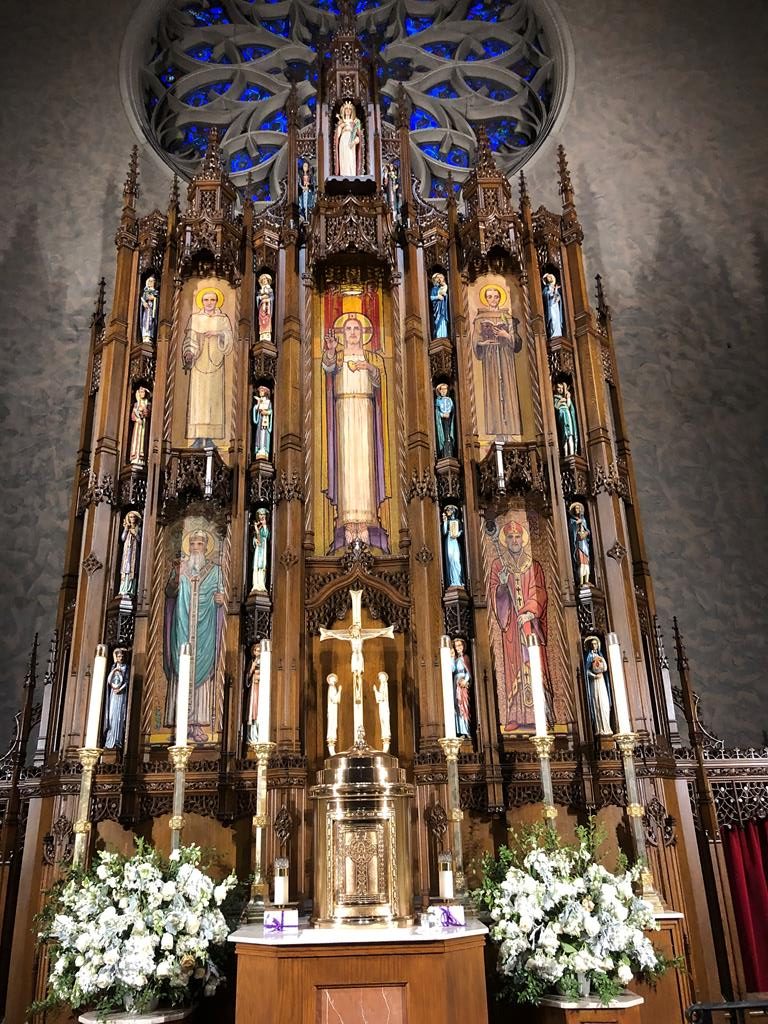 OLQM's Main Altar Reredos
In 1988, on the 50th anniversary of the construction of our present-day church, a group of parishioners and academics from City College Department of Architecture documented the historical and architectural hallmarks of Our Lady Queen of Martyrs. In September  2009 Manny Lima, our then bulletin editor, created a four-part series for the church bulletin explaining for a new generation of churchgoers the significance of the main altar of Our Lady Queen of Martyrs Church. New pictures were taken of each of the 16 saint statuettes (wood carvings) on the altar and great knowledge was shared about the altarpiece.
These discoveries are now reproduced on the web for yet future generations, so that everyone may learn more about this beautiful church.
The history of our altarpiece
In religious usage, a reredos (pronounced rare-dos) is a screen or decoration behind the altar in a church, depicting religious iconography or images. The images may be painted, carved, gilded and/or embedded with niches for statues. The term comes from an Anglo-Norman word areredos, from arere (behind) + dos (back, from the Latin "dorsum"). In French it is called a retable; in Spanish, a retablo.
Our church is blessed with a particularly beautiful reredos, not only in artistic terms but also in religious significance. Our main altar reredos was created and installed between 1940 and 1941 (exact date unknown) by Frederick de Henwood, an artist who at the time had an established reputation for many accomplished works of painting and sculpture. (De Henwood created the Stations of the Cross for our church as well as the main altar panels, and he was married to Margaret Mary MacDonald in Our Lady Queen of Martyrs Church in 1931, with Rev. Joseph McLaughlin, our first pastor, performing the nuptial Mass.)

The layout of the carved statuettes, according to the artist's original vision, was detailed in an article in one of the earliest church bulletins from 1941, which tells us exactly how Rev. Msgr. McLaughlin and Frederick de Henwood intended the statues to be seen in relation to the altarpiece's painted panels.
Read the full 1941 article here on our website.
We've created an interactive version of the reredos history with a map identifying the 16 statuettes installed in the altarpiece and their original placement. Links within the PDF allow you to click on the names of the statues and jump to close-up photos of the statues and the relevant, magnificent story of the holy men and women depicted. You can download and save this interactive PDF to read or share later.
Download and save and share this interactive pdf to learn more about our reredos.
Note: In 2018, our church undertook a project to restore and renew all the sanctuary woodwork. This pdf was prepared before the work of repainting the main altar panels and statuettes was completed.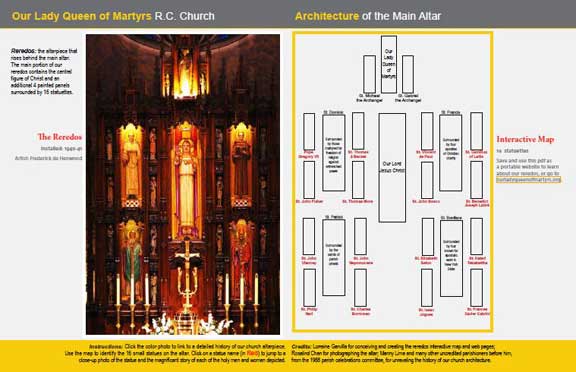 Save
Save
Save