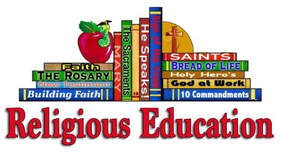 Dear Religious Education Community,
Greetings to all! As can be guessed, things are quite different these days. Owing to the threat of the coronavirus, we decided that the first semester of the 2020–2021 school year (September to January) will be by Remote Online Learning.
After you register your child on our website at ourladyqueenofmartyrs.org/re, you will be given a link to a virtual e-book, parent outline, interactive assessments, and a physical book that you can pick up here. In addition, a catechist will meet with the class on Wednesdays via Zoom.
We hope to begin online classes on Zoom on Wednesday, September 16th, 2020. To have access to the materials needed, it is vital that you please register or re-register, if you have not already done so—preferably before Friday, September 11. Please be patient with the website process as we all struggle to do our best for the spiritual upbringing and education of your children.
Thank you again for your patience, your support, and your faith.
Yours in Christ,
Deacon Thomas Jorge
Director of Religious Education