In June 2023, Our Lady Queen of Martyrs parish begins her Eucharistic Revival effort, in union with the US Conference of Catholic Bishops (USCCB). All the weekly reflections from Catholic teaching that appear in our church bulletin for the month of June are related to the Eucharist. In addition, we are providing these select reading materials from the USCCB to encourage you to explore more deeply the Eucharistic teaching of the Church. The themes are the Sunday Eucharist; experiencing the Eucharist as a community; the Eucharistic liturgy; and what the Eucharistic liturgy means for living a life of prayer and loving service.
Celebrating the Lord's Day
Eucharist: Body of Christ, Broken for the World
Eucharistic Liturgy: Formed, Transformed, and Sent
Liturgy and Life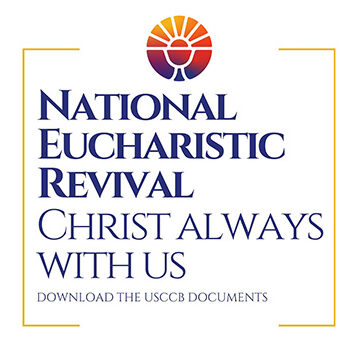 Eucharistic Revival Activities
Please check this page periodically for updates on these activities.
In Our Deanery
Sunday, June 11, 2023
Corpus Christi Procession
Our Lady of Hope, Middle Village
Begins at 3PM
This event is organized by the parishes of our QN6 deanery. Fr. Passenant is vicar forane of QN6. 
Register Here
In Our Diocese
Saturday, October 7, 2023
Diocese of Brooklyn/Queens Eucharistic Revival
Maimonides Park Brooklyn
Begins at 9AM
Bishop of Brooklyn/Queens Robert Brennan leads a day-long program with youth event, family catechesis, Eucharistic procession, and Mass.
Register here
In New York State
Friday-Sunday, October 20-22, 2023
NYS Eucharistic Congress
Our Lady of Martyrs Shrine, Auriesville, NY
Organized by the eight Catholic dioceses of New York State.
Register Here