Wednesday, September 23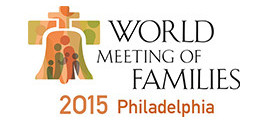 The School of Evangelization of the Diocese of Brooklyn is sponsoring a one-day pilgrimage to the World Meeting of Families in Philadelphia on Wednesday, September 23. For school students, families, those in Religious Education and all parishioners, this is an excellent opportunity that should not be missed. Coach buses will depart for Philadelphia at 6 a.m. and leave for the return trip home at 6 p.m. There are four pickup locations:
Cost: $165/adult; $100/youth (ages 6-17); includes bus travel, registration fee and WMF Welcome Kit. Meals not included.
Please note that Pope Francis will NOT be in Philadelphia on the day of our pilgrimage.
Deadline to register with payment is July 1. Call the Brooklyn Diocese at 718-281-9544 for further details or assistance.  Download a registration form here:
One-Day Pilgrimage Registration Form (English) (Spanish)
About WMF
Saint John Paul II created the World Meeting of Families (WMF) in 1994 in Rome to explore the critical role the family plays in society and to give families opportunities to talk with others about the challenges and blessings that all families have. Click here for the official website: www.worldmeeting2015.org.