On December 18, 2022, almost 50 years to the day that U.S. Air Force Capt. Francis Xavier (Frank) Egan was killed in action in Vietnam, our church celebrated a memorial Mass for him. Our Lady Queen of Martyrs was Capt. Egan's beloved childhood parish. He and his siblings — Maureen, Annette, and Bill — all attended our parish school, and Frank Egan was an altar server here when Monsignor McLaughlin was pastor.
His siblings and their families wished to pay tribute to their late brother and share their memories with our parish on this special anniversary of remembrance. Capt. Egan's brother Bill, who now lives in Ireland, brought his brother's rosary beads to church for the memorial Mass. Capt. Egan carried the rosary with him wherever he went, said Bill, and they were recovered after his plane was shot down in Vietnam.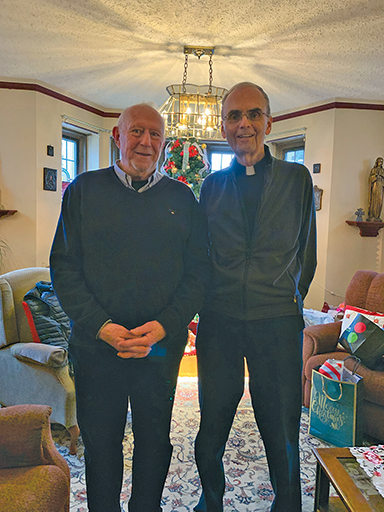 Capt. Egan taught in a Catholic school before enlisting in the Air Force in 1969 and beginning a tour of duty in Vietnam. His calling to serve our country was strong, and perhaps it is no coincidence that his birthday November 11, 1946, is Veteran's Day.
Bishop Sanchez commented in The Tablet that there is a special reason for our wanting to remember those who served in Vietnam: "Those young men and women were my contemporaries. They responded to a call and gave their lives selflessly. We cherish their memory and continue to hold their families in our prayers."
Read the story in the December 21, 2022, online edition of The Tablet (registration to access may be required).
Mass Celebrates War Pilot 50 Years After He Was Shot Down in Vietnam