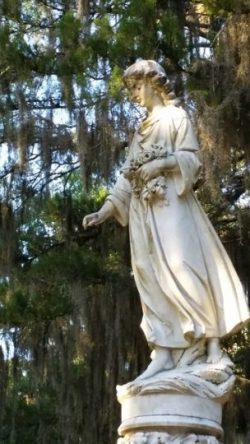 In the Apostles Creed we pray: "I believe in the communion of saints." The word communion means a "sharing" and also "communication." The word saints in the Creed does not just mean the saints in heaven. As the Catechism of the Catholic Church tells us (paragraph 946), it "includes people who have died, but have gone to purgatory and that includes the people who are still alive." It includes us! We are trying to become saints and we are already part of the communion of saints.
The Church has terms that identify the three different groups of souls who are part of the communion of saints. Those who are already in heaven are the Church triumphant. Those who are waiting in purgatory are called the Church suffering, and we who are still alive on earth are called the Church militant.
At Our Lady Queen of Martyrs we try in our special way during the year, and especially in November, to remember the souls of our faithfully departed brothers and sisters. We will be remembering those we buried here during the last five years through a reading of their names at the Masses throughout November.
Active members of our church community, through their annual almsgiving, remember the souls of their loved ones through memorial candles at the Sacred Heart of Jesus altar (pictured below). If you are interested in remembering your loved one in this individual way, please contact Dennis Portelli, OLQM Pastoral Care Director: 718-268-6251 or dfport@gmail.com.
Related Information
---