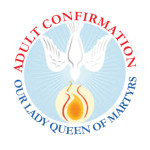 This course is distinct from RCIA and is for adults (age 18 and older) who have received the Sacraments of Baptism and Eucharist and want to receive the Sacrament of Confirmation. Sessions are scheduled for eleven Tuesdays beginning on March 1.
On-site Registration:
Tuesdays, February 16 or February 23, from 7 p.m. to 8:45 p.m., in the Our Lady Queen of Martyrs rectory.
Tuesday Sessions at 7:30 p.m. scheduled for:
March 1, March 8, March 15, March 22, March 29
April 5, April 12, April 19, April 26
May 3, May 10
Confirmation Ceremony:
Pentecost Sunday, May 15 at 11:30 a.m. Mass
Requirements:
Attendance at all sessions is mandatory in order to be able to receive the Sacrament of Confirmation.
A materials fee of $60 is due at the first class.
Your Baptismal Certificate and First Communion information are also required. (You must contact your church of baptism to secure this information.)
For additional information:
Call 718-263-0907.