OLQM's Main Altar Reredos—Part 5
Further to our article published in the September 27, 2009 bulletin on our magnificent reredos, we are now bringing you photos of each of the sixteen wood carvings, with a brief biography of each saint. We conclude with the four saints clustered around the  painting of St. Boniface (lower right quadrant.)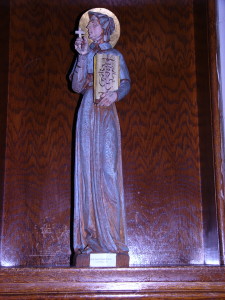 Elizabeth Ann Bayley Seton (August 28, 1774 – January 4, 1821) was the first native-born citizen of the United States to be canonized, on September 14, 1975. She was born on August 28, 1774 in New York City, and raised in the Episcopal Church. At
the age of nineteen, she married William Magee Seton, a wealthy businessman. Five children were born to the marriage. Her husband's business lost several ships at sea and the family ended up bankrupt. Soon after, her husband became ill and his doctors sent him to Italy for the warmer climate, with Elizabeth Seton accompanying him. In Italy, they were held in quarantine, during which time her husband died. She spent time with a wealthy family where she was exposed to Catholicism. Two years later she converted to Roman Catholicism, on March 14, 1805. Owing to her conversion, she lost the support of her friends and family. To support her children, she started a school in Baltimore, but it failed due to the anti-Catholic bigotry of the day. In 1809, after some trying and difficult years, Elizabeth moved to Emmitsburg, Maryland, where a year later she established Saint Joseph's Academy and Free School, a school dedicated to the education of Catholic girls. Eventually, Elizabeth was able to establish a religious community in Emmitsburg, Maryland dedicated to the care of the children of the poor. The order was called the Sisters of Charity of St. Joseph.  Today, six independent religious communities trace their roots to the humble beginnings of the Sisters of Charity. Elizabeth was described as a charming and cultured lady. Her connections to New York society and the accompanying social pressures to leave the new life she had created for herself did not deter her from embracing her religious vocation. She died of tuberculosis at the age of 46 in Emmitsburg, Maryland. Today, her remains are entombed in the Basilica that bears her name: the Basilica of the National Shrine of Saint Elizabeth Ann Seton. Dedicated to following the will of God, Elizabeth Ann had a deep devotion to the Eucharist, Sacred Scripture, and the Virgin Mary. The 23rd Psalm was her favorite prayer throughout her life. She was a woman of prayer and service who embraced the apostolic spirituality of Saint Louise de Marillac and Saint Vincent de Paul. St. Elizabeth Ann Seton is popularly considered a patron saint of Catholic schools. Her name appears on the front doors of St. Patrick's Cathedral, as a "Daughter of New York".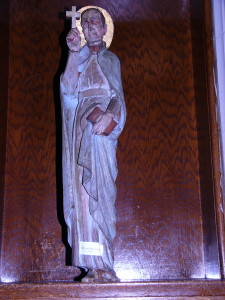 Isaac Jogues (January 10, 1607 – October 18, 1646) was a Jesuit priest, missionary, and martyr who traveled and worked among the native populations in North America. In 1646, Jogues was martyred by the Mohawks near the present day Auriesville, New York. Jogues, St. Jean de Brébeuf and six other martyred missionaries, all Jesuits or laymen associated with them, were canonized in 1930 as "The North American Martyrs," or "St. Isaac Jogues and Companions." Their feast day is October 19. Born in Orléans, France, Jogues entered the Society of Jesus in 1624. In 1636, he was sent to New France as a missionary to the Huron and Algonquin allies of the French. In 1642, while on his way by canoe to the country of the Hurons, Jogues was captured by a war party of Mohawk Iroquois, in the company of Guillaume Couture, René Goupil, and several Huron Christians. They were taken back to the Mohawk village where they were gruesomely tortured. It was during this torture that several of Jogues' fingers were cut off by this captors. Jogues survived this torment and went on to live as a slave among the Mohawks for some time, even attempting to teach his captors the rudiments of Christianity. He was finally able to escape and went back to Manhattan. From there, he managed to sail back to France, where he was greeted with surprise and joy. As a "living martyr," Jogues was given a special permission by Pope Urban VIII to say Holy Mass with his mutilated hands, as the Eucharist could not be touched with any fingers but the thumb and forefinger. His ill-treatment by the Mohawks did not dim the missionary zeal of Jogues. Within a few months, he was on his way back to Canada to continue his work. In the spring of 1646, Jogues was sent back to the Mohawk country to act as ambassador among them. However, some among the Mohawks regarded Jogues as a sorcerer, and when the double-calamity of sickness and crop failure hit the Mohawks, Jogues was a convenient scapegoat. On October 18, 1646, Jogues was clubbed to death and beheaded by their Mohawk hosts near Auriesville, New York. Ten years after Jogues' death, Blessed Kateri Tekakwitha was born in approximately the same place.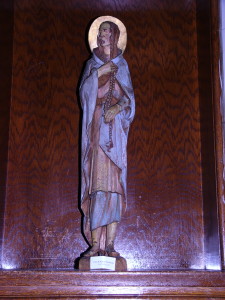 Kateri Tekakwitha (1656 – April 17, 1680), the daughter of a Mohawk warrior and a Catholic Algonquin woman, was born in the Mohawk fortress of Ossernenon near present-day Auriesville, New York. When she was four, smallpox swept through Ossernenon, and Tekakwitha was left with unsightly scars on her face and poor eyesight. The outbreak took the lives of her brother and both her parents. She was then adopted by her uncle, who was a chief of the Turtle-clan. As the adopted daughter of the chief, she was courted by many of the warriors looking for her hand in marriage. However, during this time she began taking interest in Christianity, which was taught to her by her mother. In 1666, Alexandre de Prouville burned down Ossernenon. Kateri's clan then settled on the north side of the Mohawk River, near what is now Fonda, New York. While living here, at the age of 20, Tekakwitha was baptized on Easter Sunday, April 18, 1676 by Father Jacques de Lamberville, a Jesuit. At her baptism, she took the name "Kateri," a Mohawk pronunciation of the French name "Catherine". Tekakwitha literally means "she moves things." Unable to understand her zeal, members of the tribe often chastised her, which she took as a testament to her faith. Because she was persecuted by her Native American kin, which even resulted in threats on her life, she fled to an established community of Native American Christians located in Kahnawake, Québec, where she lived a life dedicated to prayer, penance, and care for the sick and aged. In 1679, she took a vow of chastity, and, a year later, died at the age of 24, with her last words being "Jesus, I love You!" According to eyewitness accounts, Kateri's scars vanished at the time of her death revealing a woman of immense beauty. It has been claimed that at her funeral many of the ill who attended were healed on that day. The process for her canonization began in 1884. She was declared Venerable by Pope Pius XII on January 3, 1943. She was later beatified on June 22, 1980 by Pope John Paul II, and as such she is properly referred to as Blessed Kateri Tekakwitha. She is the first Native American to be so honored, and as such she holds a special place of devotion among the Native/Aboriginal Catholics of North America.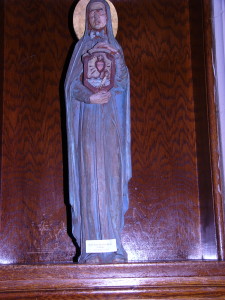 Frances Xavier Cabrini (July 15, 1850 – December 22, 1917), also called Mother Cabrini, was the first American citizen to be canonized by the Roman Catholic Church. She was born in Sant'Angelo Lodigiano, Lombardy, the youngest of thirteen children. Two months premature, she remained in delicate health throughout her 67 years.  In 1868, at 18, she was certified as a teacher. Four years later she contracted smallpox. When she tried to enter into the Daughters of the Sacred Heart, she was refused admission because of her frail health. Having been rejected by the Canossians as well, she supported her parents until they died and helped the family on the farm. She taught at a private school and, in 1871, became a public school teacher in a nearby village. Francesca Cabrini took religious vows in 1877 and added Xavier to her name to honor the Jesuit priest, Francis Xavier. She became the mother superior of the House of Providence orphanage in Codogno, where she taught. In 1880, the orphanage was closed, and—although her lifelong dream was to be a missionary in China was sent to New York on March 31, 1889, to help the Italian immigrants in our city. She founded an orphanage, which is located in West Park, New York, today and is known as Saint Cabrini Home, the first of 67 institutions she founded in New York, Chicago,Des Plaines ,Seattle, New Orleans, Denver, Golden, Los Angeles, Philadelphia, and in countries throughout South America and Europe. In Chicago, she also transformed a former hotel into Columbus Hospital in 1905;  in 1911, she opened Columbus Extension Hospital (later renamed Saint Cabrini Hospital) in the heart of the city's Italian neighborhood on the West Side. Frances Cabrini was naturalized as an American citizen in 1909. She died of complications from malaria at age 67 in Columbus Hospital in Chicago, Illinois. Frances Cabrini was beatified on November 13, 1938, and canonized on July 7, 1946, by Pope Pius XII. St. Frances Xavier Cabrini is the patron saint of
immigrants.