Fr. Antonin's 25th Anniversary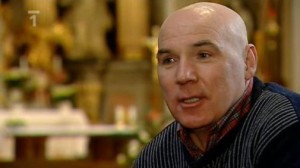 Fr. Antonin Kocurek was ordained in the Czech Republic, on June 30, 1990. To commemorate his silver jubilee, Bishop Sanchez, Fr. Passenant, Fr. Cunningham and Deacon Greg joined him in celebrating a Mass of Thanksgiving at the 1 p.m. Mass on June 28, 2015. Among his duties as parochial vicar here at our parish, he moderates our Bible Studies group. He also ministers to members of the Czeck/Slovak community in the Diocese of Brooklyn and Queens and says Mass in the Czech language every Sunday at Our Lady of Mount Carmel in Astoria. We are blessed to have his diligent service since his being sent here to the United States. He is respected, appreciated and held in affection by everyone. Continued blessings for Fr. Antonin and his priestly ministry.
Pictures below are courtesy Rosalind Chan. You can also watch the video of Father Antonin's 25th anniversary Mass and celebration in Hovezi, his native village in the Czech Republic.