Consolation/Bereavement Ministry
The Consolation and Bereavement Ministry at OLQM works under the supervision of Bishop Sanchez, Father Passenant, and Pastoral Care Administrator Dennis Portelli.
The Consolation Ministry attends Wake Prayer Services and assists families in preparation for the Christian Funeral Rite of the Church. We update the Funeral Liturgy Planner and Music Selection sheets as well as provide additional support to families during this difficult time for them.
The Bereavement Support Group offers spiritual support to parishioners (as well as non-parishioners) who have recently suffered a loss. We offer a caring environment, hope and comfort; we are non-judgmental and respect privacy in all aspects of the grieving process and point toward healing. We typically meet the first and third Monday of every month at 7 p.m. in the church rectory, unless there is a Monday holiday observance (e.g., New Year's observance, Martin Luther King Day, President's Day, etc.). In 2016, the support group marked the milestone of three years of service. For questions, contact group coordinator and Commissioned Lay Minister Yorke Mizelle.
The scheduled meeting dates of the bereavement support group for 2H2017 are as follows:

August 6 & 21
September 18 (one meeting only)
October 2 & 16
November 6 & 20
December 4 & 18

Meetings are from 7-9 p.m. in the rectory basement. Check this listing frequently or call the rectory for possible updates.
About the Group's Coordinator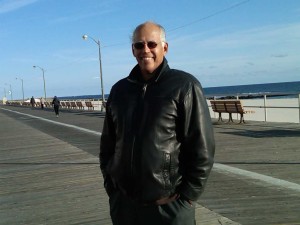 Contact: Yorke Mizelle, Commissioned Lay Pastoral Leader & Coordinator, ymizelle@nyc.rr.com
I am a parishioner here at Our Lady Queen of Martyrs. I was baptized into the Catholic Christian faith at the 2007 Vigil Mass celebrated by Msgr. Joseph Funaro. Filled with the Holy Spirit, I volunteered to be a member of Pastoral Care, became a Minister of Holy Communion, volunteered and was accepted as a catechist here at the parish, teaching the faith to third grade public school Catholic Christian children. I heard the call, went on to complete the Diocesan Pastoral Institute three-year program of study and preparation for lay ministry. In May 2013, I was commissioned as a Lay Pastoral Leader in the Diocese of Brooklyn by Bishop Di Marzio. I am also president of the Pastoral Care group at OLQM.
Related Information
Christian Funeral Rite of the Church
Pastoral Care Group at OLQM
Save