FEATURED NEWS AND EVENT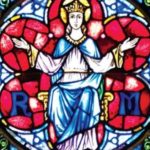 Recommended Reading for Our Parish Feast Day, September 16th
Mary, Our Respondent Queen of Martyrs
June 18, 2018, The Michigan Catholic
By Sr. Maria Veritas →
Sanctuary Renewal: A Generation of Faith Project. Read More →
---
Message from Bishop DiMarzio Regarding the Pennsylvania Grand Jury Report Read More  →
---
"Catholic Netflix" for Our Parishioners. It's free if you register with our Parish Access Code. Read More →
---
GOAL MET! 2018 Annual Catholic Appeal Update
We asked you to help us reach our paid goal by Labor Day. We had great confidence that we could do it and, as always, you came through! As of September 10, we have received $100,449, which is in excess of our parish's goal of $99,874. As you know, any amount over goal comes back in full to the parish. We appreciate your participation in this worthy effort! Thank you. 
---
JOIN US and OLQM SCHOOL/CATHOLIC ACADEMY to celebrate a milestone: 90 Years of Learning, Leading, and Living in Faith. Celebratory Dinner October 13th at the West Side Tennis Club. CLICK for Reservation Form. RSVP by September 15th. To receive more news, register in the OLQMCA Alumni Database.

---
From Our Pastor, Bishop Sanchez →
All News & Announcements →
Diocesan News →
---
---
CST 101 Videos: Catholic Social Teaching. Watch Here →
UPDATES from CATHOLIC MIGRATION SERVICES on DACA. Read More →
---
FOLLOW US AND SUBSCRIBE TO OUR EVENTS CALENDAR ON Facebook →
---
Save
Save