Fourth of July Prayer for Religious Freedom

From June 21 thr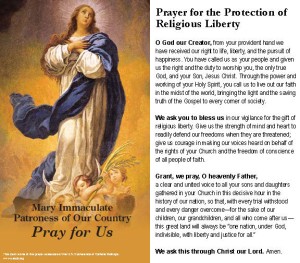 ough July 4: In solidarity with the U.S. Catholic Bishops and their call to penance and prayer for religious freedom and conscience protections, we are providing this prayer card to download. Click the image for a downloadable pdf.
Pray also for Christians persecuted around the world because of their faith. >>
---
Pope Francis' Encyclical Letter Laudato Si'
Read in full here.
Bulletin insert here.
Infographic here.
---
Papal Visit 2015
The Pope's itinerary for his visit to Washington DC-New York City-Philadelphia is now available. Click here. FAQ: Our rectory does not yet have information on when tickets will be available to parishes such as ours. Tickets will not be sold and they will be extremely limited. Check for updates at http://popefrancisnyc.org/faq.
Day Pilgrimage to World Meeting of Families
September 23
Register by July 1. More here.
---
 Participate
Enroll in Religious Education for the 2015-16 school year. Our parish is now accepting registration for all children who attend public and private schools, from the first grade through high school. Classes start September 16. Read more.
You stepped up! Thank you to the sponsors of OLQM School's annual Spring Bash and the 2015 Walk to a Brighter Future, which will happen this fall. More here.
---
Explore
Discover ways to enrich your marriage. A Worldwide Marriage Encounter weekend in Queens is scheduled for July. Application here.
Journey to Jordan with Deacon Greg Kandra in a fascinating "view beyond the pew." More here.
Take a look at our Photo Gallery here.


---
Diocesan News

---
What is the Blue Envelope?

Click here to find out. (Hint: It is about our future.)
---

Take a Tour
Did you know all the stained glass windows on the north side of the church are dedicated to Christ, and those on the south side are dedicated to Mary? Explore our church's intricate details in this video from NET-TV (2009 archives). Click on the picture. Fun starts at 1:55 minutes.