Every year our parish asks for your participation in this program, which helps to provide a happy Christmas to children in need. We hope you will be able to come through again for us, like you always do. It's as easy as 1-2-3!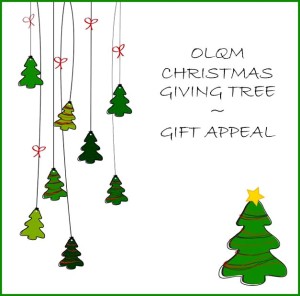 1. On the First Sunday of Advent — November 28/29 weekend — take a gift tag from the Christmas tree near the altar.
2. Buy a new and age-appropriate gift for a boy or girl. *
3. Return the gift — unwrapped and with the gift tag attached — on the weekends of December 5/6 and December 12/13. Leave all gifts under the tree in the church.
*Suggestion: For children ages 13–18, gift cards are recommended. Please consider stores such as The Gap, Old Navy, Game Stop and American Eagle.
Gifts will be collected by Catholic Charities on December 15th and distributed to children in our diocese in time for Christmas. Many thanks for your kind generosity.—OLQM Catholic Academy