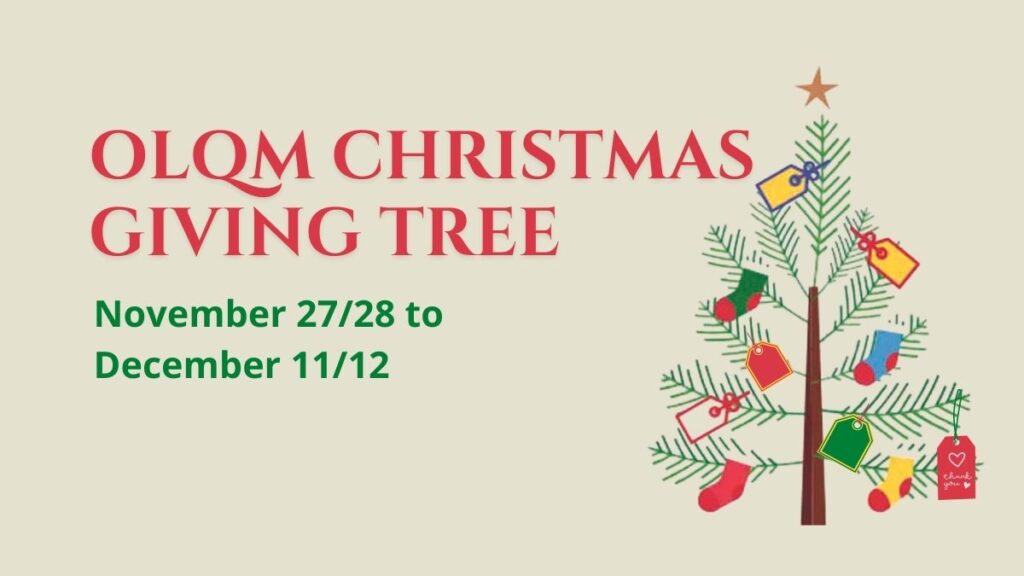 In the spirit of St. Nicholas, whose generosity was often expressed in the giving of gifts, join us in making Christmas special for local children and teens in need. Bringing Christmas Joy to someone is as easy as 1-2-3…

Take a tag from the Christmas tree at the St. Joseph Altar on the first Sunday of Advent, November 27/28. If you were unable to be in church to take a tag or if all tags are already taken, that's OK—you can still participate in our Christmas Giving Tree! And we encourage you to. Just following the next steps….
Shop for a brand-new, age-appropriate gift for a boy or girl.*
Return an unwrapped gift (with the original tag attached if you have one) to the tree in church. Deadline: December 4/5  & no later than December 11/12.
* For teens ages 13-18, consider gift cards to allow them to purchase what they need. Please give a thoughtful gift or gift card that is purchased new. (Do not give partially used cards.) If you are a regular shopper on Amazon, consider going to Smile.Amazon.com and selecting Our Lady Queen of Martyrs Church Forest Hills as your charity when shopping this Christmas season.
Please do not wrap your gifts. You may leave unwrapped gifts in the church at the St. Joseph altar, before the start of Sunday Mass. If you need to drop off gifts during hours the church is closed, you may bring them to the rectory. Gift cards can be put in an envelope clearly marked "Giving Tree Gift" and left in the rectory mailbox. (We ask everyone not to leave gifts unattended in the church vestibule because we are afraid they'll get stolen.) When returning gifts, remember to attach the original gift tag.
Our goal is to collect as many gifts as possible for boys and girls before December 15, which is when Catholic Charities of Brooklyn/Queens will pick them up to deliver in time for Christmas.
Thank you for your kindness and generosity in bringing a happy Christmas to families in our area who are having difficulties making ends meet.