Make Christmas brighter for someone else!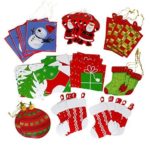 This first Sunday of Advent 2016, take a gift tag from the tree in the church. Colorful gift tags (like those pictured here) will be hanging until all have been taken.
Purchase an age-appropriate gift for a girl or boy, as written on the tag. For older children ages 13-18, consider unused gift cards from stores such as the Gap, Old Navy and Game Stop. Please give a thoughtful gift that is purchased new (no hand-me-downs, no partially used gift cards).
Return unwrapped gifts, with the gift tag attached, over the next two weekends: December 3rd & 4th, and December 10th & 11th. Leave all gifts under the tree in the church.
Gifts will be collected by Catholic Charities of Brooklyn/Queens and distributed in time for Christmas. Thank you for your kindness and generosity in bringing a happy Christmas to families in our diocese who are having difficulties making ends meet.
—Ministry Leader, David James, and Martyrs Active Youth  Organization (MAYO)
Save