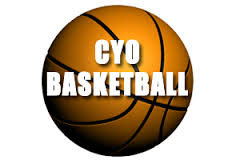 This school year, students from Our Lady Queen of Martyrs (OLQM) and Our Lady of Mercy (OLM) will compete together as one team in girls and boys basketball. There will be teams for boys and girls in 2nd and 3rd grades, as well as boys in the 4th, 5th, 7th and 8th grades.
Game Locations and Schedule
Teams will play 14 games each year, with home games and practices at P.S. 101.
All home games will be on Saturdays (9:30 a.m. – 1:30 p.m.)
Practices will be on Wednesday or Thursday nights (one hour between 7–9 p.m.)
Dates, Times and Locations for Registration and Sizing for Uniforms
• Thursday, September 6 (7–8:30 p.m.) and Saturday, September 15 (10–11:30 a.m.) at Our Lady of Mercy Lower Church Hall
• Saturday, September 8 (10–11:30 a.m.) in the gym at Our Lady Queen of Martyrs (entrance on Austin Street)
OLM/OLQM Basketball Registration 2018-19 (pdf download)
Questions? Contact Richie Allen at 212-596-9295 or Richard.allen@ropesgray.com.