Catholic Schools Week 2018:
January 28 to February 3
Our Lady Queen of Martyrs Catholic Academy (OLQMCA)
Open House and Registration for Prospective Families:
Saturday, January 27, 2018
9:30am – 11am  for Nursery* to Grade 7

Designated REGISTRATION DATE:**
March 6, 2018, 6:30am to 7:30pm

Call 718-263-2622 or visit us at www.olqmca.org. Email: info@olqmca.org

*Decision to offer Nursery program pending on Pre-K for all approval.
**Pre-Registrations also accepted at Open House on January 27, 2018.
About Our Academy and Sponsorship Opportunities
Come see our landmark building and meet our dedicated staff and families. OLQM Catholic Academy has offered excellence in education since 1928 and is accredited by Middle States Association of Colleges and Schools.
Academic Excellence in All Areas
Excellent State Exam Scores in ELA, Math, Social Studies and Science; Computer Lab, Electronic Textbooks, Coding, Library Skills for All; Remedial Reading and Math Support; Spanish Class for PK-8; TACHS Preparatory Classes for 8th Graders; Smart Board Technology in All Classes; Culturally Diverse; Large Teaching Staff (many with over 30 years at our Academy)
Class of 2017 received over $475,000 in scholarships to Catholic High Schools with acceptances to top Catholic and New York City specialized high schools.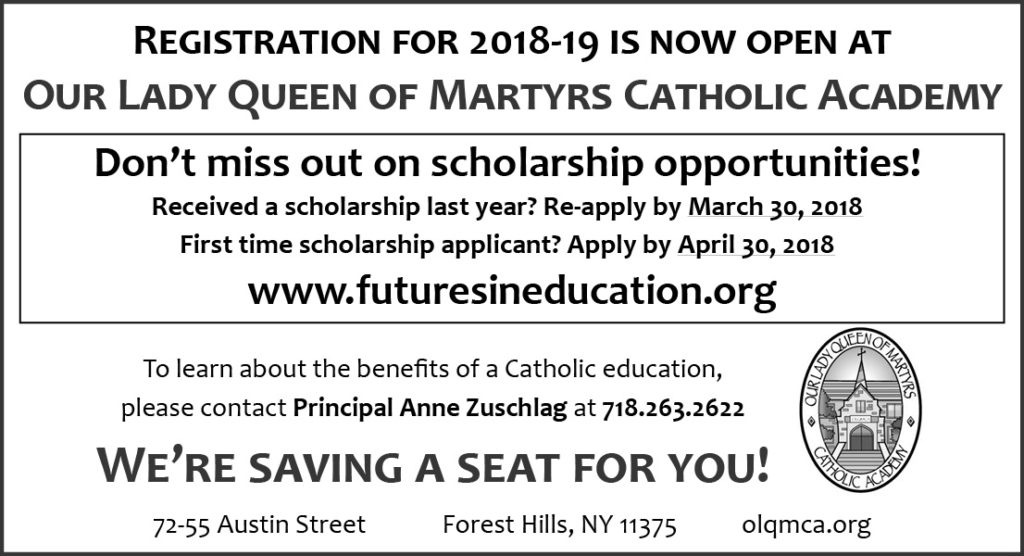 Extracurricular Activities at OLQMCA



Band for Grades 3-8 (wind, percussion and violin), Oratorical Society, CYO Basketball Teams for Various Grades, Youth Group Grades 7 & 8, Student Council, Yoga, Peer Tutoring, School-wide Field Day, Diocesan Competitions
Spiritual Formation
Altar Serving Grades 4-8, Monthly Masses and Prayer Services, Daily Faith Instruction,  Sacramental Preparation
Before School Program begins at 7am
After School Program 3pm-6:30pm supervised by teachers and staff,  time for homework, snacks and socialization
MORE AT OLQMCA.ORG.